Meera Partners with Five9 to Help Contact Centers Deliver Better Customer Experiences with Less Effort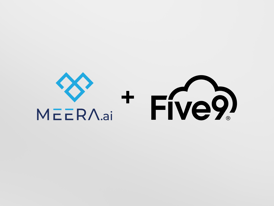 Meera and Five9: Leveraging AI to streamline call centers and the customer experience
Mantra Digital Launches Meera AI and Legal Growth Marketing
NEW YORK, NY/ ACCESSSWIRE / April 18, 2023
Meera the AI powered SMS marketing platform that adds automated text messaging to call centers, has announced its partnership with Five9, an industry-leading provider of cloud contact center solutions. Businesses can now access Meera on the Five9 CX Marketplace and integrate its conversational AI with the Five9 Intelligent Cloud Contact Center.
Meera was founded by CEO Vivek Zaveri and is an automated, conversational AI engagement platform. It allows sales reps to automate time-consuming outreach tasks, such as scheduling calls and answering questions via text, transfering warm leads to human sales reps, responding to demo requests, reminding customers about overdue accounts, and more.
The Five9 platform facilitates billions of call minutes annually and provides digital engagement, analytics, workflow automation, workforce optimization, and practical AI to create more human customer experiences, engage and empower contact center agents, and deliver tangible business results.
Meera will be syncing with call dispositions within Five9 to deliver text messages, using AI to streamline call centers' operations and provide a smoother customer experience. Meera will monitor Five9 call dispositions and automatically text customers or leads based on pre-set criteria.
Through the partnership, Meera will help solve several common call center issues, including hang-ups from customers waiting to speak with an agent. Meera will automatically text customers, apologize for the wait, schedule a more convenient time to talk, and warm-transfer their calls. It will also send follow-up texts for agents who are unable to get qualified leads on the phone, and transfer conversations to agents when customers are available to talk.
Zaveri states that he hopes Meera will help Five9 to optimize the customer experience. "We surveyed more than 800 American consumers, and 73.6% of respondents revealed they would prefer if banks, insurance agents, telecommunication providers, cable companies - nearly every kind of company they find themselves interacting with - offered to communicate with them via text message," he says. "We built Meera as a response to aggressive and often annoying outreach tactics offered by other marketing automation tools. By using AI and natural language processing, we've found that Meera can increase contact rates by up to 40% with conversational text messaging that mimics real-life conversation."
Patrice DeLorey, the Five9 ISV Partner Manager, says, "Meera's conversational text messaging solution will help Five9 customers automate tedious work and, ultimately, close more deals. We're confident that contact centers will be impressed by what Meera can do."
About Five9
Five9 elevates both the customer and agent experiences by enabling your workforce with AI and evolving the contact center through an open CCaaS platform and powerful product suite. Five9 enables you to engage customers on their channel of choice, streamline your operations, and use the power of practical AI, automation, and the cloud to increase your business agility and exceed your customers' expectations.
Check out our joint press release announcing the partnership.