X
Get A Customized Demo Of Meera.AI
Learn how conversational AI can generate a 3X ROI for your business, then get access to a 30-day free trial.
What To Expect:
A brief conversation to understand your business and pain points
A live demonstration of Meera, customized for your situation
An overview of our guarantee: If your business doesn't see a minimum 3X ROI within 60 days, you'll get a full refund.
Get a 20-minute demo customized for your business & pain points
What is
Conversational AI?
A conversational AI platform understands incoming text messages from potential students, and responds to them with conversations that are human-feeling but automated. And because it's AI-driven, it's personalized, scalable, and always improving.

Texts and engages new inquiries within 15 seconds
Nurtures inquiries until they're ready to talk to admissions
Then automatically schedules meetings with a representative
Face Off - Conversational AI
Versus

SMS Marketing

Automation

Open Rate

Inquiry Response Time

Scalability

Deliverability

Pricing

ROI

Message Consistency

Tracking And Visibility
SMS Marketing
Teams have to track and respond to incoming messages manually
Low, and varies based on staff availability
Low: Volume limited by admissions team time
Very high for one-on-one conversations, but limited by cut-and-paste messages
Difficult to quantify, depends on time spent
Diffuse manual efforts make ROI difficult to calculate
Difficult to enforce; requires training and manual message auditing
Messages are typically scattered and siloed
Conversational AI
Responds for you, automatically
Responds in near-real time, for instant engagement
Very high: Messages can be sent to every single contact, with no additional human time
Extremely high, thanks to always-personalized messages
Low, fixed cost per month
Increases with the number of contacts reached via AI conversations
Ensured by pre-determined, updatable text options reviewable by your team
Every message is trackable for ongoing insights and follow-up.
Unlike SMS Tools, Conversational AI Works Like a Virtual Admissions Officer — Eliminating 80% of Your Team's Busywork
Without Conversational AI
Staffing turnover and hiring pains means high stress and low contact rates
Student follow-ups stack up or are abandoned
Outbound calls go unanswered

Enrollment needs a lift

Call center costs have skyrocketed

Uncontacted inquiries pile up, while new ones stream in
With Conversational AI
AI can fill in for an unlimited number of reps, and boost morale with more and warmer leads
Automate responses, and use the channel most likely to result in real engagement

Connect, communicate and follow up with more students than your current channels
Boost your enrollment with inviting, human-like engagement

Cut down on call center expenses by over 70%

Conversational AI can help you re- contact older leads, without distracting from more recent ones
Could Your Admissions Team Use A Friendly, Always-On Assistant To Help Them:
Field potential applicants' questions?
Schedule (or reschedule) appointments?
Follow up with every inquiry, fast?

Smoothly elevate text conversations to voice calls,?
Penn Foster, one of the oldest and largest distance learning institutions in the world, is just one of the schools taking advantage of Meera's conversational AI platform to communicate with students on their own schedules, without adding headcount — and has already recovered more than $1 million in otherwise lost enrollments.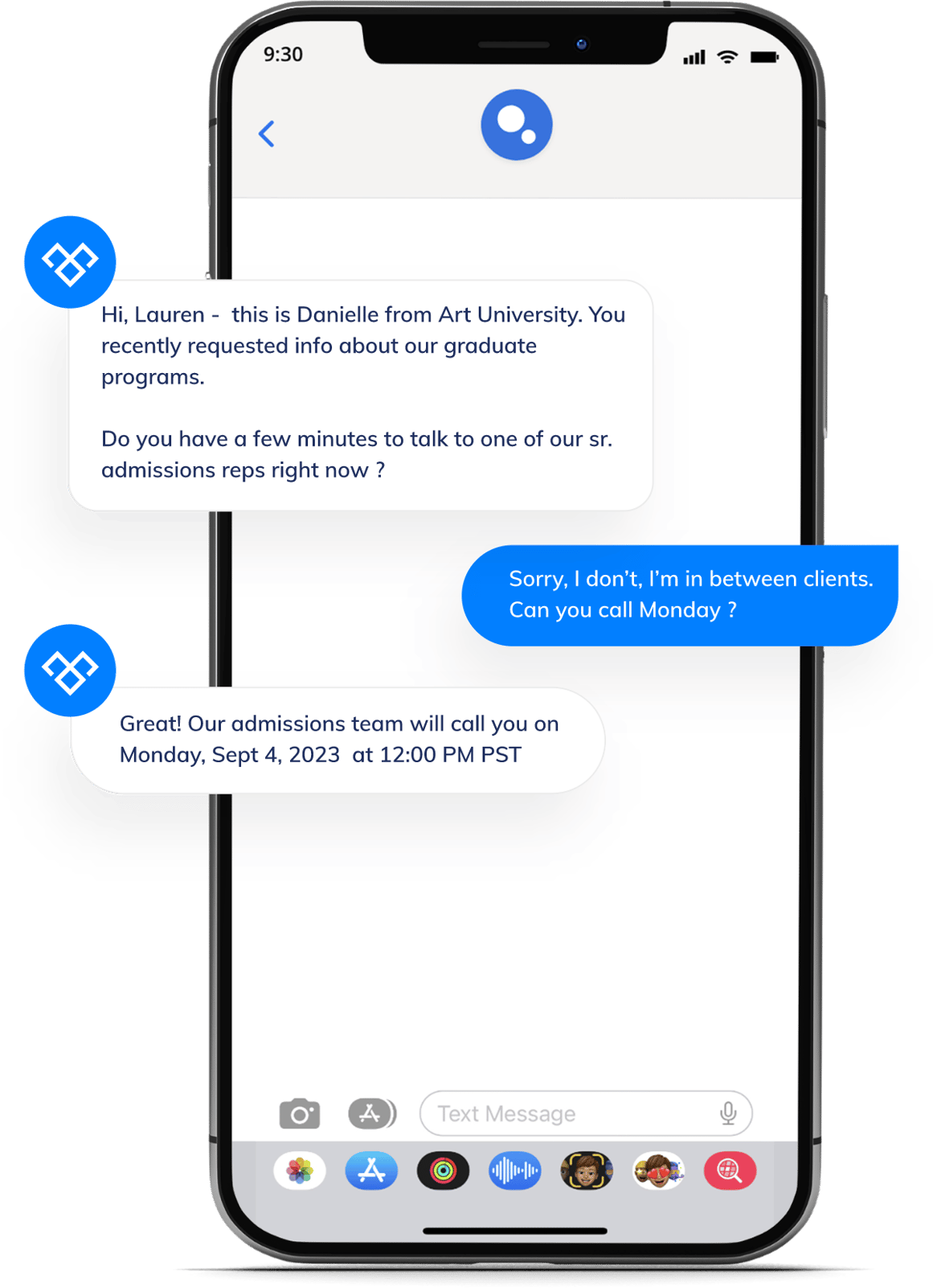 See if Conversational AI Can
Relieve

the Pressure on Your Admissions Team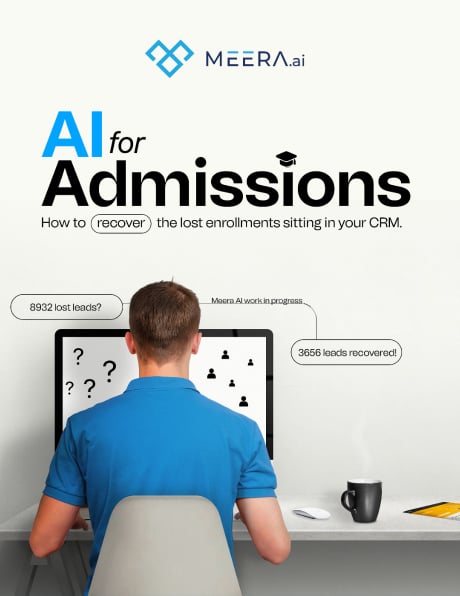 Learn How to
Recover

Lost Enrollments Sitting in Your CRM

Get our AI for Admissions playbook for using conversational AI
Get a
Free Consultation

with a Conversational AI Expert

And get a demo of how the Meera.ai platform works